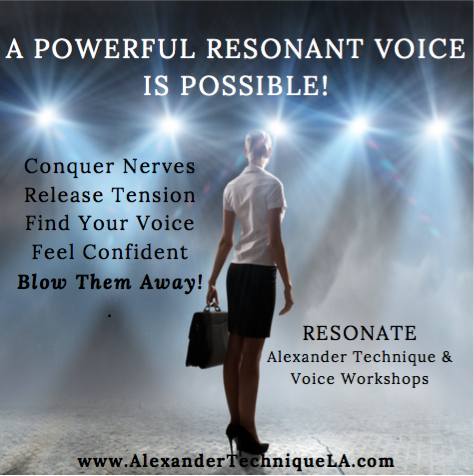 Do you lose your voice?
Most likely you are working too hard to produce sound.  When your voice isn't there, you try even harder producing tension that smothers your voice.
Your voice is vibration and tension smothers vibration.  That interfering tension is created by lifting your chin and pushing your head forward to try and reach your audience.
Your REAL voice, your natural voice RESONATES! When you learn to release the unnecessary compression of the neck, ribs, and back, the vibration of your voice fills the room EASILY!
Jessica is a singer and songwriter who was chronically losing her voice during auditions, recording sessions and performances

This actor and singer stopped using her voice when she learned to release the muscles of her neck, shoulders, and back

If you are sick and tired of losing your voice and stressing out about your voice working during auditions, recording sessions, speaking events, and performances, then it's time to train in the Alexander Technique.
RESONATE is a 6 week Alexander Technique course that frees your voice, opens your body, and eliminates tension that ruins your voice!
When: Wednesdays, October 10 – November 14, 7pm – 8:30pm
Where: Los Feliz studio
Cost: $400
SIGN UP TODAY!