Sharon Jakubecy, 
transformation teacher.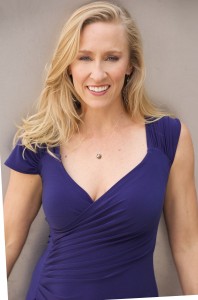 Sharon received a Bachelor's of Science degree from UC San Diego in 1995, where she studied Cognitive Science. Through this, she was able to establish an understanding of the nervous system. Her extensive dance training endows her with a clear knowledge of how the body moves with ease and fluidity.
Jakubecy began studying the Alexander Technique 20 years ago because it relieved chronic and debilitating pain in her hip. During her first Alexander Technique lesson, she had no pain and experienced a sense of wholeness and peace of mind. While taking lessons, she experienced such calm and ease throughout her body. Very quickly, she knew she had to share this with the world. She decided to become an Alexander Technique teacher when she recognized that she had become better able to deal with a very stressful job–teaching children with autism.
In 2003, Sharon Jakubecy became an AmSAT certified Alexander Technique teacher after training intensively for three years at ATI–Los Angeles. During her career as an Alexander Technique teacher, she has witnessed hundreds of students come to her slouched, stiff, miserable, and in pain. After one lesson (which includes Sharon's expert hands-on guidance), students feel light, calm, and leave with smiles. Seeing people move up out of their slouch (which makes them look and feel insecure and exhausted) and into their full height (which makes them look and feel confident and energized) has inspired Sharon to teach this technique. Helping people creatively cope with stress, anxiety and worry so that they can live inspired and joyfully is Sharon's passion.
Sharon helps writers, doctors, teachers, singers, actors, lawyers, and business executives achieve peak performance by giving them the tools to release harmful tension. Without that tension, her clients can "nail" demanding performances, presentations, and public speaking engagements with a resonant and engaging voice and an open and charismatic body language. She was on the faculty at Stella Adler Studio and American Academy of Dramatic Arts in Los Angeles. The LA Phil, The LA Opera, Women in Theater, Laguna Playhouse, The Dating Coach, Vox Humana, and Children's Hospital have sought her to teach her "secret weapons" that help their members be loose, light, and dynamic.
She has given Corporate trainings at company's such as Media Arts Lab, PromoShop LA, Dynamic Solutions Inc., Grifols Biologicals, the Law Firm of AALRR, CareerBuilder, M13 Investments, Legal Ops for Pure Storage, and more.
The mystery of the mind, 
unlocked.
The Alexander Technique fine-tunes awareness and connection between body and mind. Everyday we are bombarded with stimuli to which, on the whole, we react immediately without stopping to think. In fact, many of our problems stem from the fact that we don't think.
Most of the time we act and react in our own habitual way. Bent on getting the job done, we give little thought as to how we do it and this leads us into bad habits: we tighten our necks, compress our ribcage, tense our muscles, and hold our breath. A.T. zeroes in on what Alexander called the mysterious "critical moment" in your thinking.
The critical moment occurs within the continuous stimulus/response loop happening in your mind. At that critical moment, A.T. attempts to install "new software" in your thinking (within this stimulus/response loop) to choose a better response.
Can you really re-wire your mind? Yes, A.T. sets a person free from the tyranny of habit and destructive patterns. In its place, A.T. allows for rational, reasoned conscious thinking. This has scientifically been shown to produce marked health benefits.
"The Alexander Technique shows someone how to control nature within himself, that is to say, how to control his own reactions to the external world."
F. M. Alexander
The man himself, 
F. M. Alexander.
F. M. Alexander, born in Australia, lived most of his life in England throughout the early half of last century. He was an early proponent of the mind/body continuum and sought to introduce a clear scientific process to address it. In fact, Dr. Nikolas Tinbergen devoted much of his acceptance speech to the merits of the Alexander Technique (A.T.) upon winning the Nobel Prize for Physiology and Medicine in 1973.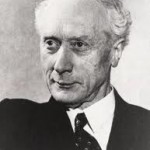 F. M. Alexander co-wrote one of his four books with renowned philosopher Jon Dewey spreading A.T.'s influence to the United States. One of Alexander's most devout students was the best-selling novelist Aldous Huxley – Huxley even based a character on F. M. Alexander in his book Eyeless in Gaza. In fact, many famous figures of his time including Sir Stafford Cripps, George Bernard Shaw, Sir Charles Herrington, and James Harvey Robinson were avid students. Some of these intellectuals called the Alexander Technique a western shortcut to Zen.
"The Alexander Technique has shown very striking improvements in such diverse things as high blood pressure, breathing, depth of sleep, overall cheerfulness, mental alertness, and resilience against outside pressure. Many types of under-performance and ailments, both mental and physical, can be alleviated, sometimes to a surprising extent, by teaching the body musculature to function differently."
Dr. Nikolas Tinbergen, Winner of the Nobel Prize for Physiology and Medicine Science, 7/5/74