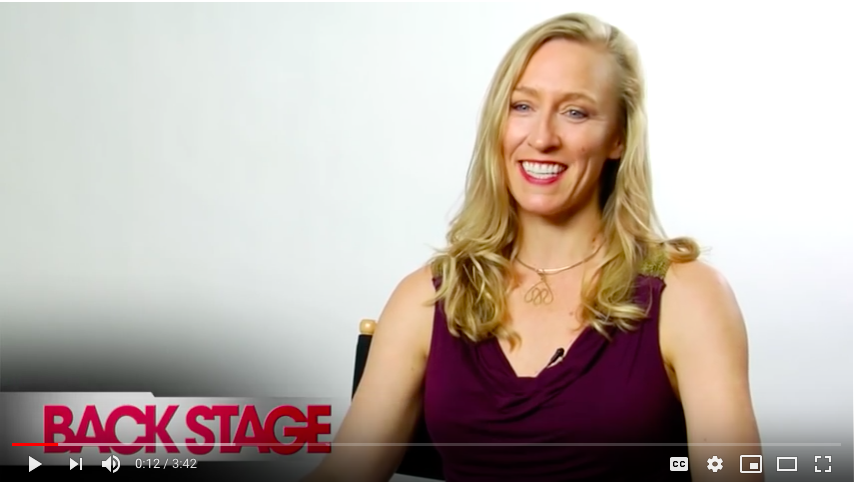 (Click on the photo to watch the video interview on BACKSTAGE)
'Un-Getting Ready'
(This is an excerpt from the article " Keeping Up with Alexander Technique" by Lisa Jo Sagolla.  For the entire article click here)

Jakubecy teaches mainly performers and public speakers, working with them on making direct connections between Alexander work and what they do in auditions and presentations.
"It's all about application," she says. "If you understand the work but can't apply it to what you want to do, it's not very useful. For example, when I teach, it's 'Okay, we'll do some floor work, some hands-on guidance, some identify and release tension, but now let's have you stand up and do a monologue.' At the very beginning of a monologue, a performer's habits jump in right away, so as soon as they go up on stage, I'll ask them what they notice. They might notice that they're locking their legs, or their lower back, or their chest—and that's before they even begin speaking. Then at the next class, I'll have them say just the first line of the monologue and notice what they do when they're getting ready to speak. Do they gasp for breath? Lift their chin? Tighten their neck? Then I give them guidance regarding how to undo all of those inhibiting habits—'un-getting ready,' so to speak. That's one of my favorite terms. I teach actors how to 'un-get ready.' "
Jakubecy thinks the growing interest in Alexander work stems from an August 2008 article in the British Medical Journal reporting the results of a study that had been done in England on the relationship between back pain and the Alexander technique. It compared the effectiveness of Alexander, exercise (in the form of walking), and massage in the relief of generalized lower back pain, and Alexander was found to be the most effective of the three. Patients who had 24 Alexander technique lessons experienced 85 percent fewer days of pain in a month than the control group. "So with the publication of that study, more people started seeking out Alexander technique for back pain relief," Jakubecy says.
For the entire article, please visit Keeping Up with Alexander on BACKSTAGE