Just before CARmageddon in Los Angeles in 2011, I was interviewed at the NPR studios to help listeners with traffic-related stress. Taking care of yourself while driving helps you stay calm, focused and at-ease during any crazy traffic jams you find yourself in.  Check out the link to the NPR story by Mandalit Del Barco that aired the Friday before the 405 was to be closed for an entire weekend:  http://www.npr.org/2011/07/14/137838936/i-405s-closure-will-be-a-nightmare-for-l-a-drivers
Fortunately, CArmageddon was not the disaster the city officials thought it would be.  However, on your way to that important meeting or audition, you still get stuck in bumper-to-bumper traffic with people who are in to much of a hurry and without any patience.  You get stressed out, agitated, and your back starts to kill you.
"Grrrrrr!  What are all of these people doing on the road?  Where could they possibly be going at this hour?  What does that guy think he is doing?  He is driving like a lunatic!  I have been driving for 30 minutes and have only gone 8 miles! "
Driving is a necessary evil in Los Angeles.  Every day, the mean travel time to work for Angelenos is just about 30 minutes.  Both ways is an hour.  Add on driving to the kids' school, to the bank, the grocery store, and maybe even a trip to the gym and Angelenos are spending close to 2 hours in the car.  While driving, many of my students complain about hip and lower back pain, neck stiffness, frustration, stress, and downright exasperation.     During their lesson, we look at how they are using themselves while they are driving and how they can undo the destructive tension that makes this everyday activity so unpleasant and painful.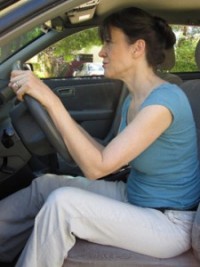 Betsy Salkind is a comedian and writer in LA (www.BetsySalkind.com).  In one of her very first lessons, we went out to her car and investigated what she was doing that made her neck ache and her head explode.  While she was driving, Betsy was slouching forward, collapsing her ribcage and spine.  This position required her neck muscles to contract pulling the weight of her head back and down.  She was forward of the structural support of her pelvis, so her hip joints were compressed.  Her neck hurt.  Her shoulders hurt.  Her hips hurt.
It is possible to drive without compression and strain.  For Betsy, we arranged her position in the car seat so that she let her head, neck, and back release back and up away from the steering wheel.  The back of her head was supported by the headrest, which needed to be adjusted so that it didn't tilt forward.  With her head supported by her spine, which was now long, her neck muscles were no longer straining to hold her head up.  Her ribcage had room to move with her breath.  **Here is an amazing little secret weapon that will help you to eliminate tension while driving** She held the steering wheel with the pinky side of her hand which helped her to stay supported by her back.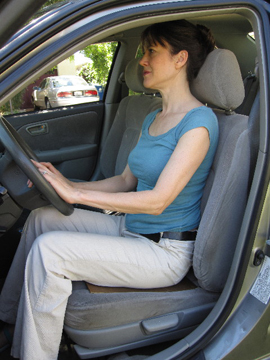 Now when she is driving Betsy doesn't want to slouch because it makes the experience so much more stressful.  She sits tall, doesn't hold her breath, and lets her pelvis and back support her entire body.
By making these simple choices for yourself, you too can drive in LA traffic without pain and stress.
If you have been stressed and in pain while driving, try these tips and leave a comment.  You can also share this article with colleagues and loved-ones who suffer when they drive.